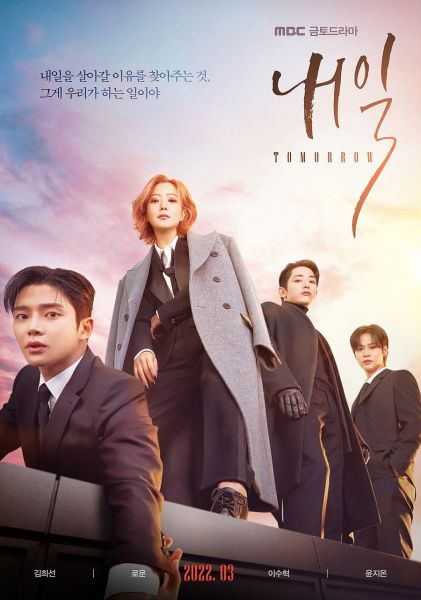 Bingo Card
(내일) 2022 MBC
Choi Jun-Woong (Ro Woon) is having no luck finding a company job. One night, he dies while attempting to save a man from suicide, but is temporarily saved by a special squad of angels of death — Koo Ryeon (Kim Hee-Seon) and Im Ryoog-Gu — who are tasked with preventing suicides. His body is in a coma, but if he's willing to help the grim reapers for 6 months, the Jade Emperor will bring his body out of the coma and restore his life.
---
K-Drama Bingo Score
Running commentary
Being a drama about a special squad of Grim Reapers who attempt to prevent suicides, I'm expecting this to hit most of the tragedy cards pretty hard, but not so much on the mushier stuff.
So it's turning out to be more episodic than I expected, with 2-episode arcs for each "case" so far. The Na-Young/Woo-Jin story that ends in Episode 5 literally had me bawling my eyes out. One of the most heart-wrenching scenes I've watched since those opening minutes of Up.
In Episode 6, however, we learn that Grim Repears are nationalist, and patriotic, which is a bit weird for beings that have lived through centuries of shifting geopolitical sands. I'm pretty sure I just watched a Korean adaptation of Touched by an Angel.
Definitely no Rumble Tummy in Episode 7, but we hit Cartoony FX and Bullying.
An honorary PETA award for E09, in which an adorable fluffy suicidal dog is persuaded to return to his human companion. After running away from home, Kong seeks refuge from the rain…in a playground. Where else?
Episode 13 was another cultural corrective tale, this time about recognizing the horrific experience of Korean "Comfort Girls" in Japanese war camps. Barely about the reapers at all, the episode seems more like politcal sloganeering — even if you agree with the sentiment — than something that drives the plot of Tomorrow along. By episode 14, however, the writers have doubled down, and give Ryeon's back story from the Joseon era. An experience with Qing barbarians that eerily mimicks that of the Comfort Girls, and her previous life tie-in with Park Joong-Gil.
---
Unmatched Bingo Spaces
Chicken & Beer

Korean Standoff

Middle-of-the-Road Soliliquy

Piggyback

Rumble tummy

Shamans & Talismans

Son Hyeung Min

Thumbs up

Wrist grab

강한나 (Kang Han-Na)

내 친구 ("My friend…")

한국어학교 (Language lessons)