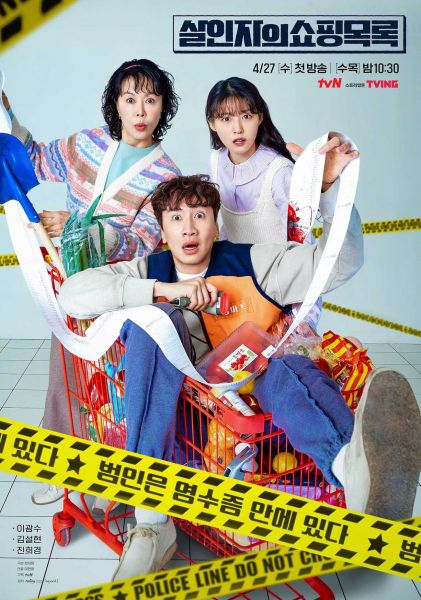 Unrated
Bingo Card
(살인자의 쇼핑목록) 2022 tvN
From AsianWiki.com: Dae-Sung (Lee Kwang-Soo) has excellent memory. He is also a timid person. Even though he failed his exam to become a 9th grade public official for 3 years, he is still studying to pass that exam. He works part-time at MS Mart in the outskirts of Seoul, which his mother Myung-Sook (Jin Hee-Kyung) owns. His girlfriend is A-Hee (Seol Hyun) and she works as a police officer. Both his mother and girlfriend are supportive of him.
One day, a mysterious murder case takes place near an apartment building. MS Mart is located close to the murder scene. A-Hee investigates the murder case by herself. Soon, Dae-Sung and Myung-Sook joins her investigation. The only clue of the murder case is a receipt that was issued from MS Mart.
---
K-Drama Bingo Score
This drama has not been rated yet.
---
Unmatched Bingo Spaces
(Dis)possession

Childhood friends forgotten

Vehicular tragedy

Bullying

Cartoony FX

Chicken & Beer

Cramped quarters

Crushing Debt

Finger hearts

Korean Standoff

Memorial service

Middle-of-the-Road Soliliquy

Piggyback

Pinky swear

Rumble tummy

Shamans & Talismans

Son Hyeung Min

The Playground

Thumbs up

Wrist grab

강한나 (Kang Han-Na)

내 친구 ("My friend…")

한국어학교 (Language lessons)