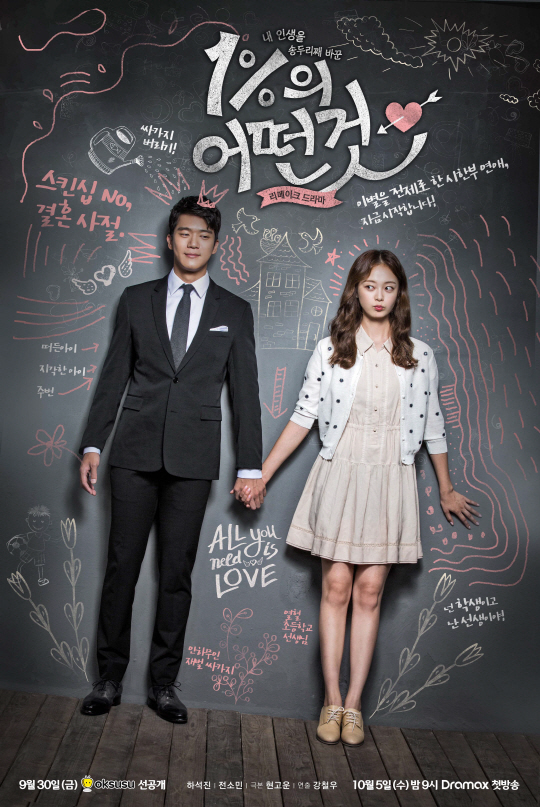 Bingo Card
(1%의 어떤것) 2016 Dramax
Kim Da-Hyun (Jeon So-Min) is a schoolteacher. One day, she does a good deed for a stranger. The stranger turns out to be the Chairman of a Chaebol, who now wants Da-Hyun to marry his grandson, Lee Jae-In (Ha Seok-Jin). Jae-In to enter into a 6-month contract to pretend to date Da-Hyun.

---
K-Drama Bingo Score
Running commentary
This drama comes highly rated and well-loved in the community, but I'm starting to think that you needed to see it in 2016. First of all, was that a terrible year for ties? Also, the bare bones romantic plot borders on aggressive coercion in several situations, like a throwback to 1960's macho domination.
The plot is kept simple — no major twists, only a minor misunderstanding about a step-sister, no major corruption scandal at the corporation. But it ends up over-simplified, and we're just left with two people who dated, grew to like one another, broke up for stupid reasons, then got back together. In the mean time, she remained the same as she ever was, and he became a totally different person (who is still too physically pushy). So…this won't be cropping up on my Top 10 list anytime soon, nor will it be heartily recommended. Sorry folks!
---
Unmatched Bingo Spaces
(Dis)possession

Childhood friends forgotten

Vehicular tragedy

Bullying

Cramped quarters

Crushing Debt

Middle-of-the-Road Soliliquy

Piggyback

Pinky swear

Rumble tummy

Shamans & Talismans

Son Hyeung Min

강한나 (Kang Han-Na)

내 친구 ("My friend…")