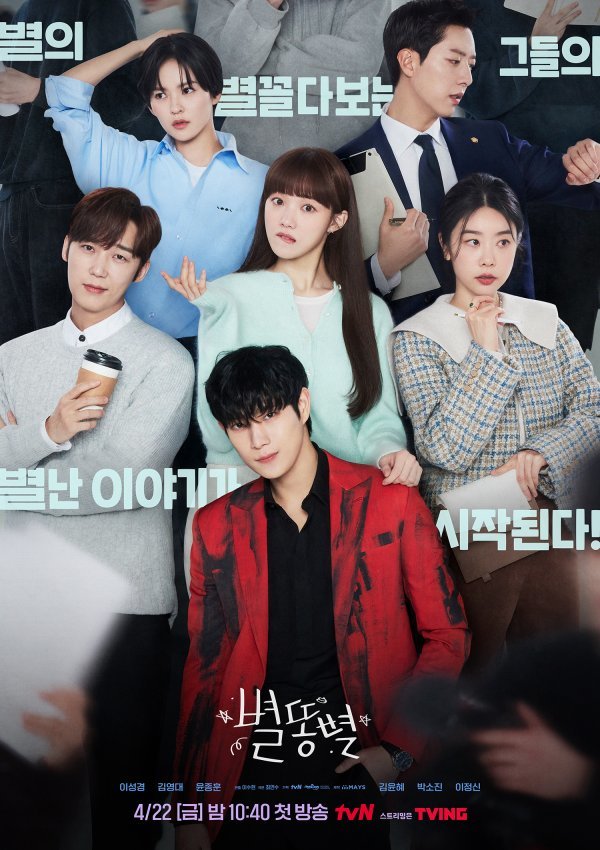 Bingo Card
(별똥별) 2022 tvN
Set within the entertainment world, employees work for a star and try to make that person shine.
Oh Han-Byeol (Lee Sung-Kyung) is the PR team leader of a management company. She has excellent skills in speech and crisis management. Gong Tae-Sung (Kim Young-Dae) is the top actor of the management company where Oh Han-Byeol works. He is loved by people due to his image of a kind and polite person. But, Gong Tae-Sung has a different side. He has a strong desire to win and a hot temper. Oh Han-Byeol and Gong Tae-Sung bicker over pretty much everything, but their relationship develops romantically.
---
K-Drama Bingo Score
Running commentary
If Call My Agent! were a Romance K-Drama…
Only 3 episodes in, with a score of 9. Doing well! Excellent bitter romantic tension/fighting/flirting between the main characters. And Yoon Jong-Hoon is great as Kang Yoo-Sung, who has his own fan club for being a "handsome agent." Good stuff.
---
Unmatched Bingo Spaces
(Dis)possession

Childhood friends forgotten

Vehicular tragedy

Bullying

Cramped quarters

Crushing Debt

Middle-of-the-Road Soliliquy

Shamans & Talismans

Son Hyeung Min

강한나 (Kang Han-Na)

내 친구 ("My friend…")