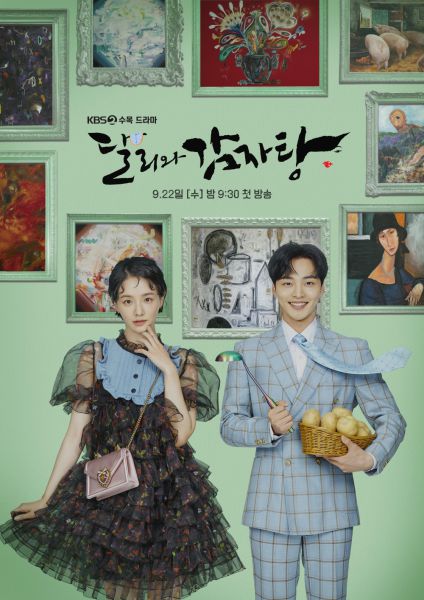 Unrated
Bingo Card
(달리와 감자탕) 2021 KBS2
From AsianWiki: Jin Moo-Hak (Kim Min-Jae) is the second son from a family that runs the global restaurant franchise firm Dondon F&B. The company started from a gamjatang (pork bone stew) restaurant. He lacks education, but has an excellent ability to make money.
Meanwhile, Kim Da-Li (Park Gyu-Young) is a visiting researcher of an art gallery. She is the only chid of a prestigious family. Kim Da-Li can speak 7 different languages and she has a good personality, but she is not very good at doing household chores like cooking.
Jin Moo-Hak and Kim Da-Li happen to meet without knowing about each other's backgrounds and they develop good feelings for each other. Due to an art gallery that is going bankrupt, they meet again as the son of a rich, uneducated family and the daughter of a prestigious family.
---
K-Drama Bingo Score
---
Unmatched Bingo Spaces
(Dis)possession

Childhood friends forgotten

Vehicular tragedy

Bullying

Cartoony FX

Chicken & Beer

Cramped quarters

Crushing Debt

Finger hearts

Korean Standoff

Memorial service

Middle-of-the-Road Soliliquy

Piggyback

Pinky swear

Rumble tummy

Shamans & Talismans

Son Hyeung Min

The Playground

Thumbs up

Wrist grab

강한나 (Kang Han-Na)

내 친구 ("My friend…")

한국어학교 (Language lessons)